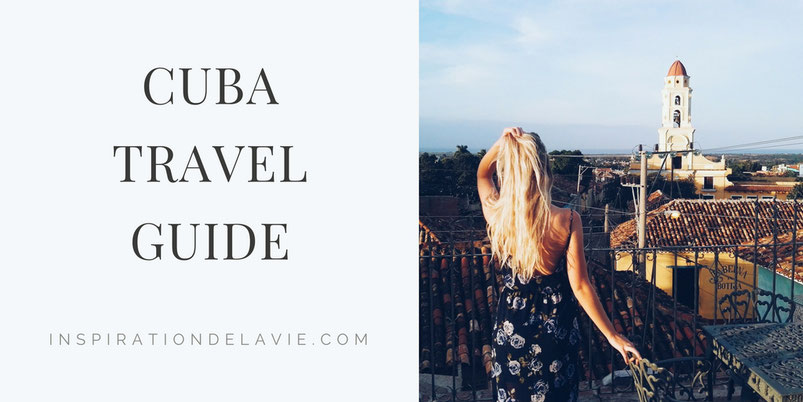 ---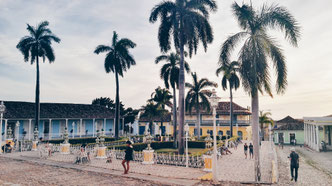 Get to know the most beautiful cuban cities and get some insider tips for restaurants and appartements.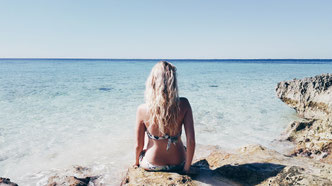 Find out where to find the best and non touristic spots to swim and sunbath and to admire the most beautiful sunsets.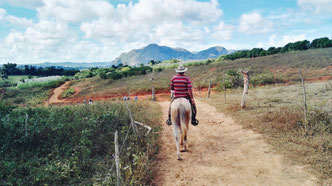 I will share with you my favorite locations to  experience riding and admiring the incredible landscape of Cuba.
---
---
It sounds a bit irrelevant - but avoid flying to Cuba in high season from the beginning of December until the end of January. If you prefer to stay in one or even more hotels instead of b&bs when travelling, it can be extremly difficult and very expensive. Prices from 100-150 € / night are usual in that time of year.
Because of some time issues, we had to get there in high season and stayed three weeks in December. We decided to book everything in June and July and avoided all kinds of hotels. We preferrd the cuban kind of an b&b: Casa Particulares. I will write more about those cheap and traditional cuban stays and if you want - you can book everything with airbnb. Get my personal airbnb travel list here.

Throughout the year, the temperatures are just fantastic, only in June until November, you should avoid the country, because of the stronger rain and possible hurricanes.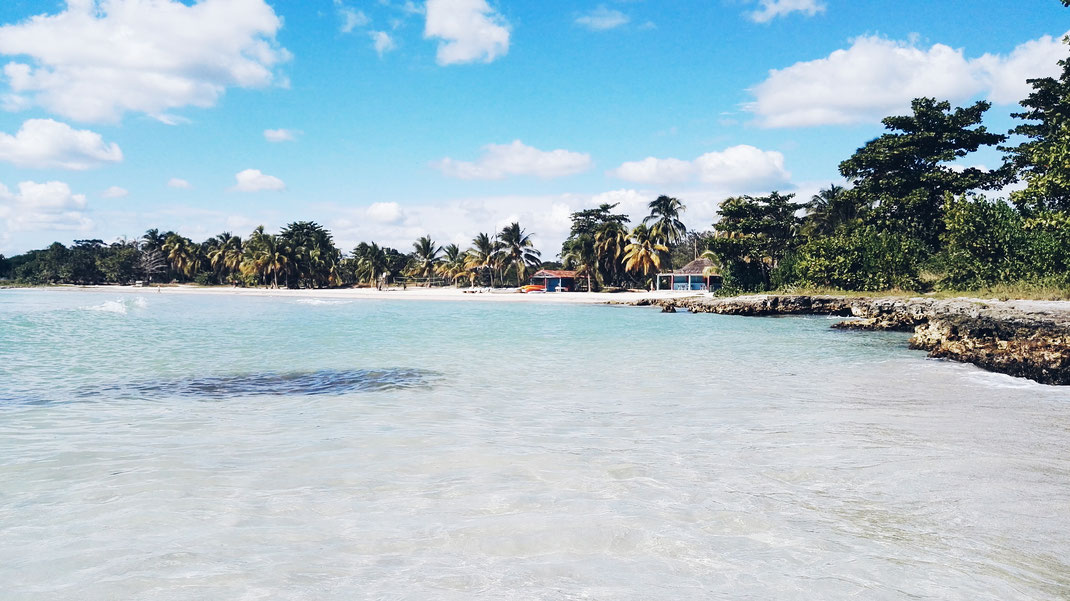 ---
In Cuba, you have to travel completely without an internet connection. It's strange and sometimes often difficult if you can't use those standard sites like Tripadvisor, GoogleMaps or even your weather app.
When I traveld through the country, I used a lot of helpful offline apps & of course my card maps and travel guide. Print everything you need or save it on your smartphone. If you want to save some city maps, then just download them with your GoogleMaps Account.
Those offline apps offer everything you need - like finding your appartement, getting some city information or even some restaurant tips.
---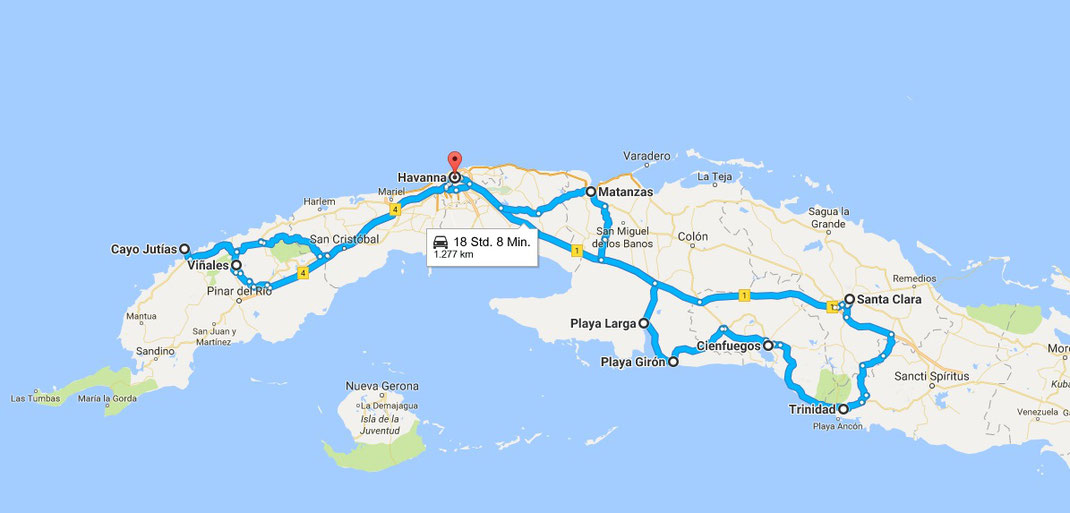 ---
Sure, you need a valid passport for at least six months, but you also need a valid travel health insurance and a tourist card.
Tourist Cards garantie you a maximum stay of 30 days and they can be extended for the same period of time. All Tourist Cards look totally the same, except if you are flying from the US. You won't be able to board to your flight to Cuba without one of those cards.
The cost depends of the country your living. It's around 25 € p.P. in Europe and 50 $ when you're a US citizen.
You can appliy for at the tourist card at the Cuban Embassy or purchas it at all travel agencies. Read more about it here.
 

---
Cuba is completely malaria free, but there are cases of dengue fever. Therefore always pay attention to the adequate mosquito protection.
Otherwise the following standard vaccinations are recommended:
tetanus, diphtheria, hepatitis A, long-term stay also against hepatitis B, typhus, rabies and cholera.

---
Cuba is a safe country. Whether for women, single travelers or couples.
We have never experienced anything unpleasant and no one I know has ever reported an incedent. Also theft is very low because of those penalties for offenses against tourists are disproportionately high. Of course, the one or other Cuban will try to "rip you off", but most of the time they want some smale change and it's always about 2 - 10 Euros oder CUC. Also, those Casa particulares are perfectly safe and the owners will help you with all your problems.
We even took a hitchhiker on the road, which was very pleased, as the public transport is incomprehensibly badly regulated. They will tell about their life and want to know anything about your work - and of course they want you to bring to a "very good" restaurant in town or buy you a guided tour.

---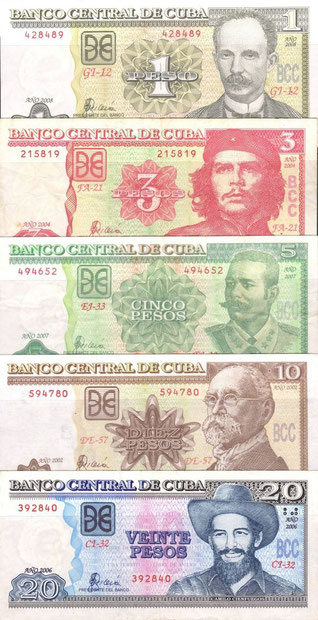 The double currency is one of Cuba's unique features.
 The Cuban Peso (CUP) is the currency of the natives, while the tourists pay with the Peso Convertible (CUC). The money is absolutely worthless in foreign countries and must therefore be exchanged directly at the airport. One or two hours of waiting time can be easily scheduled when a complete aircraft has just arrived.
Exchange rate:
1 € = 24 CUP
1 € = 1.06 CUC
The best way to travel is to bring enough cash and a few online pre-reserved casas.
If you use your credit card (VISA is the only one working) the classic fees are very high. The best way to travel cheap is to use the national currency to get your food and drinks or bus rides (which are officially only for the Cubans).
At the sales stalls or farmers markets you can buy your groceries for little money.
Some examples:
Beer: 1CUC
Water: 1CUC
Breakfast: 5 CUC
Dinner / Lunch: 12 CUC
Taxi ride: 25 CUC
---
You just want to pause your digital life for a few weeks? Then travel to Cuba! I haven't been online for the whole time and I swear it's the best thing you can experience! We are sitting on our computers, tablets, smart-tvs & smartphones almost the whole day and without the possibilty to "google" everything, life is getting much more exciting. Sometimes it's also frightening of course, but you will communicate even more with the cubans and experience a totaly relaxed lifestyle.

But I've you need the Internet, of course there are some ways.
There are few Internet cafés and PC terminals in the Etecsa offices and some 4* -5 * hotels offer a paid service that is slightly more expensive than the WLAN in public places. (1 hr / 2 to 6 CUC). Etecsa sells those WLAND Cards at the most important and busiest places - queuing and waiting for 1-2 hours is quite normal.
 Tip: Download the app "Wifi Cuba" at home, so you can see these WIFI places even offline !
GPS-capable devices are generally prohibited in Cuba. Nevertheless we had our mobile phones, our tablet and our Navigation System in our luggage. We had zero problems !

---
Shopping in Cuba is limited to the basic food and it can also happen that the water is sold out. We have eaten in the Casas from time to time, but this can also be costly with 12 CUC. Spaghetti with tomato sauce usually cost about 4-5CUC and helps to save a bit of money.
Kiosks and gas stations offer drinks and snacks and you can buy the fresh food on the small fruit and vegetable markets. Meat, fish and bread are also sold at the roadside and out of the windows.
Do not expect too much from the food, because Cuba is very minimalistic. Herbs and spices are expensive, which makes the Cuban cuisine not one of the best. In the Casas you get a good breakfast (eggs, coffee, bread and fruit) for 5CUC per person, as well as dinner with a small starter (beans, salad), a main course (mostly fish or meat with rice) and a delicious dessert (cut fruit). From time to time you even get some sweet homemade cakes.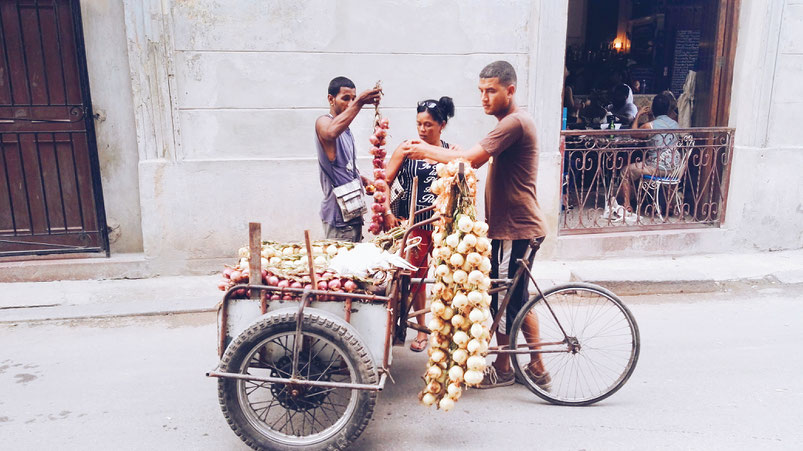 ---
The Cubans we were allowed to meet were open, incomprehensibly friendly and - above all - totaly curious.
They wanted to know everything about my country, my life and they loved looking inside my travel guide (even if they couldn't understand it).
As already mentioned, Cuba is very safe and no Cuban will oppose you unkindly - but they all want to make some kind of "business" with you. Whether it's a few CUC for a photo, or the recommendation for a great restaurant - or even children, which are begging you for some money or shoes.
The owners of the casas also want to "pass" you directly to friends and relatives (someone always has a restaurant or makes some guided tours) to make a little more money. You will soon realize that no one will pull you over the table - nevertheless everyone would like to get a little bit of the current "tourist boom" - which is totaly understandable.

---
In Cuba, tourists can travel with the VIAZUL buses, taxis or expensive rental cars.
If you choose the modern Viazul buses, which operate punctually and reliably between the big cities, I definitely recommend reserving your routes in advance. Otherwise it can occur, especially in the high season, that your bus is already overbooked. The prices and travel times can be found here online.
Make a roadtrip the get the best cuban experience !
With a rental car you can move easily and safely in Cuba. Only a few Cubans own cars, so you will find carriages, bicycles and pedestrians on your way. The roads are not very well signed, but the roads are always good to find. The traffic rules correspond to ours and the fuel prices in Cuba are similar to ours, around 1.25 € / per liter or 1.25 CUC / per liter.
To book the car is a bit difficult. It is best to make use of special offers on the internet and book your road maps. Prices fluctuate very strongly and have risen steadily in recent years. Around 60-80 € / day (without insurance!) are unfortunately the normal prices in the high season. Furthermore, you will often have to pay 100CUC insurance again and a deposit of 200CUC.
---
The best accommodations in Cuba are Casa Particulares. You will have a nice, comfortable room with a bathroom and you have the possibility to have breakfast and dinner. The state-run hotels in Cuba can't be compared to the experience you get while staying with a local family, smoking cigars and eating Cuban food. You learn so much about the history of this amazing country and get so many personal tips.
In theory, you only have to book your first accommodation. The Cubans are gladly and easily directing you to your next accommodation and they always find a free place for you to stay :) There are several internet sites where you can book your Casas. The normal booking sides like booking.com or trivago.com don't offer anything in Cuba. We had a great experience with airbnb and can honestly recommend it (see my airbnb wishlist with the casas we booked).
 Info: The Casa always cost between 20-30€/$ per night/person
 Here are my Airbnb rating and good booking pages:
 
The best Airbnbs for Cuba
P.S: Get your 20 € voucher
 
Casa Particulars:
bbinnvinales.com
casaparticularcuba.org
 
Hotels:
cubaccommodation.com
cubatravelnetwork.com
---
After an exciting round trip through Cuba think about planning a trip to South or Central America.
 With aeormexico, we booked a direct flight for less than 100 € to Cancun and added a four-week round trip to Tulum and Palenque.
Do you have any questions about your trip to Cuba? Let me know!
beautiful nature in vinales & playa larga