This Blogpost contains advertising from other companies.
Amsterdam is one of the most beautiful European cities. I love the canals, the thousands of bikes that you can use to explore the city and, of course, the great restaurants and cafes.
You can discover Amsterdam on foot or it's even better to explore it by bike. In addition, a trip to Zandvoort is a great idea if you want to include a beach day or you can take n excursion to the beautiful tulip fields near Lille.  Also, a trip to Bruges is definitely a good idea.
Get my Amsterdam travel tips, find out about the most instagrammable places in Amsterdam. Furthermore you will get the best sights, restaurants and plan your city break in the Dutch capital in my Amsterdam travel guide.
---
My personal tips for your City Trip to Amsterdam - how to get there and where to stay -
---
I have been to Amsterdam several times and I always spend a few days by the sea. But the city itself offers so much to do and to see, that a short weekend trip to Amsterdam is almost too short. However, hotels and accommodations are often very expensive. Cheap Hotels or Airbnb are always my favorite choice for city breaks. Find the best Amsterdam Airbnb apartments!
Be sure to book a parking lot when booking your accomodation, if you are traveling by car. Parking in Amsterdam is  incredibly expensive and prices between 30 and 60 euros per day are really common.
You need a cheap parking in Amsterdam? Then I recommend you www.parkingcentrumoosterdok.nl. You will pay 20 € per day and you are only a few minutes away from the city center.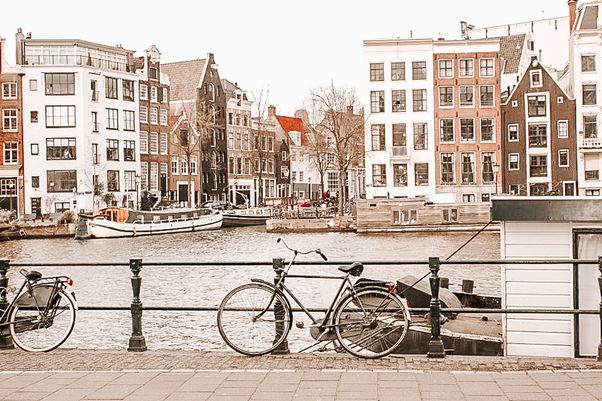 ---
---
Explore Amsterdam by bike
---
Of course you can explore Amsterdam on foot or by public transport.
Unfortunately, you often have to adjust to rainy or windy weather. Nevertheless, you can borrow bikes from Bike 4 you. They cost you only 9 € for 24 hours and there are two easy, central locations - the best way to see Amsterdam. You will need your ID Card/Passport and €50 per bike required as deposit and you can explore the canals and roads by bike. Amsterdam is full of  bike paths and everything is designed for cyclists. You want to go to the beach - then simply use your bike!
---
The most instagrammable spots and excursions
---
Bloemenmarkt
The flower market is the perfect place to browse for flowers and stroll along the canals. You can find this flower spot at the street Singel 622, its the first place to buy flowers.
Hortus Botanicus
The botanical garden is one of the oldest in the world and especially in bad weather ideal for a afternoon stroll. There are a lot of beautiful spots for instagram photos inside and outside the botanical garden.
Vondelpark
Amsterdam's canal district Vondelpark is ideal for a picnic and for visiting the beautiful bridges, canals and restaurants. This instagram spot isright befor the Hotel des Arts, Rokin Street.
---
All Amsterdam Instagram Spots on Google Maps
---
The best sights and instagram spots in Amsterdam
---
The capital of the Netherlands is full of beautiful sights.
Especially the city itself with its canal belt is worth a visit.
Amsterdam canal belt
---
Amsterdam is criss-crossed by semicircular waterways, just like a net. With 165 canals belong to the canal belt and the city, Amsterdam has even more canals than Venice! Especially in the small side streets you can experience a quiet and relaxed atmosphere and you will find tasty little things everywhere. In addition, the canal belt is full of beautiful green areas, trees and parks.
The old town of Amsterdam
---
Between Dam Square and Amsterdam Central Station you will find most beautiful attractions and the center of the city. Events, festivals and many historical sights can be found there. In the Royal Palace you can learn more about the history of Amsterdam. The red light district is the oldest district of Amsterdam and one of the tourist areas. Bars, students and rather average food make the area a party district.
Jordaan District in Amsterdam
---
Located west of the Prinsengracht and just minutes away from the main train station, lies the Jordaan district. Formerly a working-class district, it now offers idyllic squares, architecturally unique houses and many shops and cafés. But above all artists, writers and musicians can be found there. Every Saturday from 9 am to 5 pm at the Noorderkerk the Noordermarkt with delicious food takes place.
---
Amsterdam: The best cafes and restaurants
---
Amsterdam offers incredibly good restaurants with regional and international specialties.
Especially the Dutch sweets like Stroopwafels or Poffertjes, small pancakes or apple pie are worth a try!
But especially because of the diverse cuisine of Europe, Amsterdam is ideal to try out new restaurants.
---
Foodhallen
If you don't know what to eat, you should stop by the food halls. There you will find traditional and extraordinary food - for every taste.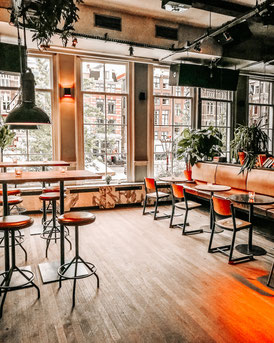 Pluk
For delicious coffee and bowls, you should definitely go to Pluk. Make sure you try the delicious cakes, the Mermaid Bowl and the Matcha Latte.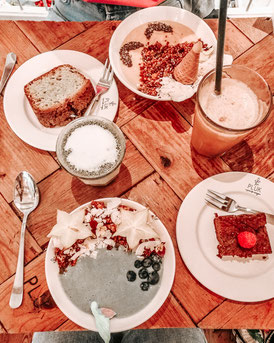 Burger
In Amsterdam, there is an incredible number of burger shops. My tip: Go to The Burger Bar and Ellis Gourmet Burger you get really good ones.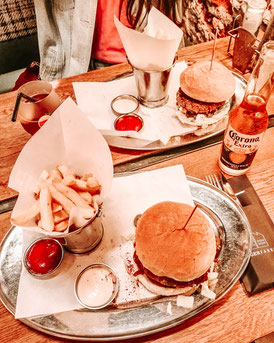 ---