---
The dreamlike coastal town in the south of Spain does not only impress with its culture and its beaches. Around Malaga, there are fantastic excursions and unique landscapes to explore. Surrounded by mountains, a road trip through the outback and along the sea to Tarifa is especially worthwhile on a trip to Malaga.
In addition to recommendations on restaurants and accommodation, you will find my favorite places and insider tips around the Costa del Sol and the enchanting Andalusia in my Malaga travel guide.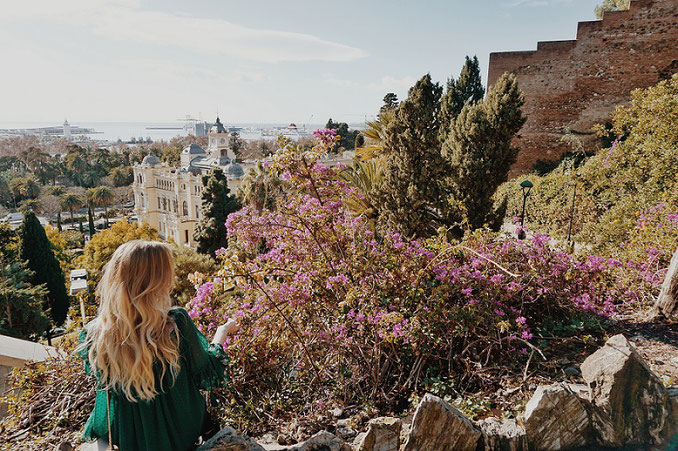 Malaga city trip - Getting there, hotels, attractions and restaurants
---
Malaga has many facets and, as the second largest city in Andalusia, it is one of the most popular tourist destinations. The climate is ideal for a city break, especially in the months between March and November.
Getting to Malaga on the beautiful Mediterranean is easy and often inexpensive. Check flight deals for the best prices and look for budget accommodation or Airbnbs. Around Malaga, you will find small apartments as well as modern beach hotels. Thus, the city is ideal for a beach holiday. P.s. Be sure to book a hotel with a pool in summer. You can stay between three and fourteen nights - there is enough to explore.
On the Costa del Sol, you don't have to worry about your Spanish language skills. You will be enchanted by the flair and benefit from the Spanish hospitality. The lifestyle is truly unique. Enjoy delicious tapas by the sea, relax under the warm sunshine and the cool Mediterranean Sea. You will find delicious restaurants around the beautiful beaches in Malaga. Especially when it comes to tapas and wine, you cannot go wrong with the diverse culinary on the Costa del Sol. I definitely recommend Playas de Palo when you want to visit the beach, because Playa la Malagueta is a bit crowded in summer.
But not just for sun, beach and food the Costa del Sol is famous for. Malaga shines with numerous sights and it's full of culture and history. In addition to art museums and old churches and squares you will find numerous monuments and viewpoints. Your ideal starting point is the harbor or the city center. From there you can explore everything by foot or by bike. Make sure to visit the Malaga Wine Museum and the beautiful Jardines de Pedro Luis Alonso. It is a true natural oasis and a mediterranean idyll full of roses and colorful flowers - even in winter! Enjoy the scent of orange trees and listen to the soft sounds of the fountains. From there you can also explore the most beautiful viewpoints in Malaga.
Medieval fortresses, lovely parks and fantastic views in Malaga
---
You love breathtaking views and unique architecture?
Then you have to pay a visit to the old fortress and palace complex Alcazaba in Málaga. Close to the Teatro Romano, an impressive ruin of an amphitheater, you will find the climb up to the Alcazaba. The former fortress, perched high above the city, is part of the unique cityscape of Malaga.
From there you can walk up to Gibralfaro Castle – trust me, the views are totally worth it! The entrance fee for Gibralfaro and Alcazaba only costs € 3.50 and it's worth every penny. Enjoy the wonderful view from the top. Both fortresses were formerly connected and can still be explored today through wonderful parks.
Be sure to bring a bottle of water with you during the high season. The way is simple but persistent and sometimes a bit exhausting.
But you will be rewarded with the breathtaking view over Malaga.
Restaurant tips for your trip to Spain
---
La Tranca
La Tranca is one of my favorite wine and tapas bars in Malaga! The food is delicious and the service is outstanding!
Bodega El Pimpi
Fine tapas, good wines and a unique charm: You should definitely stop by Bodega El Pimpi and order some food!
Batik
Delicious food and a cool view of the Alcazaba: Take a night out to Batik, it will be so worth your money!
Holidays in Andalusia - On the road with your rental car
---
Want to stay a little longer on the Mediterranean Sea and extend your trip to Marbella, Nerja, Granada, Mijas or Ronda?
Then plan one to two weeks for your travel and book your rental car with malagacar. You will get the best prices and insurance.
Explore the city itself and discover the mountains and the nature of Andalusia.
Attractions and sights in Andalusia - Costa del Sol road trip
---
Any questions about your trip to Malaga or your road trip through Spain?
Let me know in the comments or safe on Pinterest!